We are a small Hampshire studio applying craftsmanship in typography and graphic design to express heritage, luxury, art and culture.
Buttercross Creative is built from a passion and belief in the importance of craftsmanship in design. Little things add up – the details do matter. Our creative input and visual implementation can transform the profile of a business, whether it's a brand identity, an event, printed literature or a website driven by content or function. There's a story to tell from the personality and values that make each business different, and how you tell it to your potential customers is where we come in.

Based in Winchester, David and Liz bring their skills primarily to the heritage, arts, culture and luxury sectors. Our combined skills create a perfect blend of creative excellence, attention to detail and exceptional customer service. Well, we have been together since the 1990s, and working together since 2002!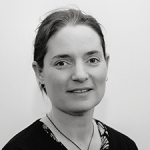 Liz Livingston
Project Manager and Designer
Liz is a rebel – a youth spent playing in bands before her true talent emerged as a unique combination of creativity and organisational skills (a rare breed). And you might catch her singing while she works still.

Liz produces high quality, accurate design and artwork, and runs a smooth, tight studio overseeing all the creative projects. She keeps our clients happy and ensures we deliver to schedule and beyond expectations.